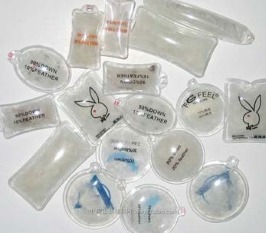 At present, although some of the down jackets on the market are cheap, they are equipped with transparent "down velvet", and the velvet in "down velvet" is very upscale. According to the reporter's understanding, such a "down standard" can be purchased for less than two cents.

Consumer "superstitious" feather down sign

"A lot of down jackets on the market are hung with a small, transparent inflatable tag. There is a sample of down inside. There is also something printed with velvet. Is it okay to see the standard?" The reporter found that there are many consumptions. The inflator is used as an important reference for purchasing down jackets. The consumer, Ms. Zhao, said that some of the down jackets will make a transparent window on the clothes horns to show the filled down. Each time she buys down jackets, she pays special attention to these, and she believes that "seeing is true".

"If you buy a big, reputable, well-known brand, this filled down can be referenced." In a Bosideng down jacket counter in a shopping mall, the promoter told reporters, "But if you buy it in a small shop, or Custom down jackets, as people have this standard, how to come to say no good."

In a "custom refurbished" shop near Panjiayuan, the reporter saw a down jacket with a price of 320 yuan. The inflatable logo printed "90% white duck down" and showed some fluffy down and down samples. "You don't look at that mark. This down coat is not so high, or it's not the price." Perhaps in order to attract business, the owner took the initiative to explain to the reporter: "My store's cashmere is good, this is about 80 About the amount of cashmere in it, I tell you the truth."

Transparent "down" standard to buy

The shop owner said that in the custom-made down apparel store, almost 80% of down jackets are marked with 90% cashmere, but the price is much worse. "You look at the 90% of the white duck down in the mall, and you have to have thousands of them. The shop next to it still sells more than 200. Can it be true? Or I have a fair price and you are wearing warm clothes." He also said This kind of transparent down apparel inflatable tag is very cheap to buy, "You can write what the amount of cashmere can be, what cashmere, what brand are free to mark."

The reporter then found out on Taobao.com that the price of this "down jacket inflatable standard" was only one or two cents. In the online shop of a "Bofa Technology Co., Ltd." in Wenzhou, the price of the transparent inflatable tag ranged from 1 to 6 cents to 3 to 5 cents, and the owner stated that "can be customized, including cashmere, cashmere, and brands. You can write casually." Another owner of the Shanghai Online Shop stated that if the company logo and English and Japanese logos are to be printed, the relatively good quality inflatable tags will be priced at around 5 cents. The owner of the shop also "well-intentioned" suggested that if the sales of down jacket looks simple, it would suffice to mark a Chinese, "or you would be fake if the style is not so good."

Press the handkerchief to judge down quality

Look at the "transparent" approach, and can not ensure the quality of their own down jacket, how to buy down products? The purchaser of Jack Jones, a men's clothing counter of New World Department Store, told reporters that he would relax and level down the down products at the time of purchase, press down with his hand or large magazine and then release his hand. The down jacket with good quality should quickly rebound and return to the original state. If you do not get up or slow recovery, the quality of the filler is not good. "If you press it down, it will be a flat piece. It will probably be broken smashed hair, not down."

A tip from the official website of the Chinese Down Industry Association suggests that consumers carefully hand-pick down jackets when they buy down coats: "If you feel soft and have a small piece of hair, it's a genuine down product. The hair piece has a soft feel but poor resilience, and it softens the hair piece instead of the down feather. For example, soft, but short, rough and stiff shafts are smashing hairs. This kind of clothing has no warmth."
Church Candle is used for church, for praying,for memorial. A candle lighted by a worshiper in a church.
Candle originated in the original era of the torch. Primitive man fat or wax like on bark or wood, tied together, made for the lighting of the torch. At about third Century BC the beeswax candles may be seen today. In the west, there is a period of time, the temple in beekeeping to self-made wax, this is mainly because the Catholic church that Mila is a symbol of a virgin conception, so the beeswax as pure light, dedicated to the altar of the church. From the existing literature, beeswax in our country have roughly same time with the west, Japan is in the Nara period (710 to 784 years) in our country was introduced into the candle of, and compared to modern candle, ancient candles have many shortcomings. The Tang Dynasty poet Li Shangyin, "when he cut a total of west window candle" of the poem


Church Candles,Catholic Candles,Church Pillar Candles,Church Candle

HEBEI GEMMY IMP.& EXP.CO.,LTD , https://www.hbgemmy.com