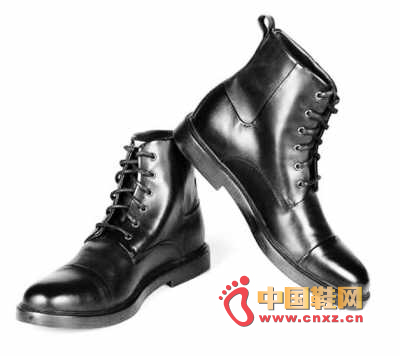 【 Benevolence - Shoes and Life】 A wide variety of colorful shoes are always the most attractive eyeballs. However, the shoes are uncomfortable and you only know that you can only look at the appearance, regardless of the quality of suffering. Many shoes have problems such as wear resistance, bending stiffness of the hook, and unqualified hardness of the hook. These problems are of great potential for health and safety, and they are also the most easily overlooked by consumers. Therefore, people should carefully check the following 4 points when purchasing.

Soft and easy to stomp. Leather shoes (except flat shoes and wedge shoes) have a steel hook between the outsole and the midsole of the sole of the foot. It is the backbone that connects the heel and the forefoot, supports and maintains the overall shape of the shoe, and has a stable heel. The role. Unqualified hearts will cause the overall deformation of the shoes, the heel to be inclined around, leading to unsteady walking, even in serious cases, stomping and falling. Good quality shoes can give better support to the arch and will not damage the physical function of the arch. However, if you wear a shoe that has not been sufficiently supported for a long time and is too tight or too tight on the front foot, it may cause the arch to collapse, resulting in a painful walk, prolonged discomfort, and even hallux valgus. In general, mid-shoe toughness is not easy to stomp. When picking a shoe, you can press hard to press the inner sole of the shoe with your hands. It is not soft or deformable. You can also twist the shoe by hand, and you can't twist it or twist it into a "twist" shape. When trying on, you can test the stability of your shoes by turning your feet to the right and left sides. If your feet are easy to turn over, you can easily stomp your feet. It is recommended not to buy them.

The heel seam is the most polished. The parts of the feet are mainly at the heel seams and toe caps. New shoes are too small or leather is too hard, they are easy to wear, long-term wear easily lead to corn, paronychia, hallux valgus and other diseases. Therefore, you should try to buy sheepskin and other soft leather shoes; if there are seams in the heel of the shoes, carefully check the thread, the cortex has no protruding place; try at least ten minutes, walk around and make decisions. If you inadvertently buy a shoe that has worn feet, you can dry a piece of wet paper towel, then soak it in white spirit and fix it on the worn foot for one night. If the shoe is worn on the edge, use a wet towel for a few minutes to make it wet. Soft, and then hold a cylindrical object such as a glass bottle and force pressure several times; if the new shoes are too small and pinch the feet, may wish to dampen with a wet towel, and then use the shoe wedge to support large, wear it to follow the foot.

Artificial leather shoes are beriberi. Artificial leather shoes are not only poor in breathability and slip resistance, but also tend to harden at low temperatures, resulting in problems such as perspiration, foot odor, and incompatibility. Experts suggest that try not to buy artificial leather, nylon, plastic and other materials, shoes, they are poor air permeability, easy to cause bacteria and fungi on the foot, causing athlete's foot, it is best to buy leather shoes and cloth shoes. So, how to distinguish between leather and artificial leather? First, check whether the shoe box has the upper material, according to national regulations, the shoe box should be marked in a clear position on the upper material (what kind of natural leather, two layers of leather or synthetic leather, artificial leather Etc.) Second, carefully observe the surface of the leather, and the real leather surface has clearer pores and patterns. Third, by hand rubbing the leather for a while, the leather leather feels plump and smooth, and artificial leather and synthetic leather have a longer time of hand rubbing. , there will be a wet, sticky feeling; fourth, touch the suture, the leather suture is bulging out, and the leather suture is concave, and in the leather junction, the suture of the leather is dense (5-6 needles per centimeter), and the suture of artificial leather is too loose and easy to pull, so it is generally less sparse; Finally, with fingers from the inside of the leather force to the top of the outside, the skin is fine and delicate light is the leather, No change or darkening is synthetic leather.

The sole pattern is shallow and easy to wrestle. There are many kinds of sole material, among them, the rubber bottom is soft, elastic, non-slip shock absorption, but slightly heavy; plastic bottom wear, but not slip, poor cold resistance; foam bottom elasticity is also more suitable for the shape of the foot, but very slippery, Easy to wrestle, the elderly and pregnant women are better not to wear. Should pay attention to check whether the soles are flat when purchasing, whether the pattern is clear, if the pattern is light or the material of the sole is not wearable, it is easy to slip when worn for a long time; the sole is lightly pressed with the nails, and it should be flexible, not too soft or too hard, otherwise it is easy Damage to the foot.

· The old shoes at home are like this to transform big spikes
· Old shoes don't stupidly throw away so that the shoes "open"
Put a physical insurance on your shoes
· How to clean the matte surface of the shoes?
· Breathable, antibacterial, deodorizing socks with it to avoid off shoes
·Sports shoes's little tail actually has these 3 functions you certainly don't
·High-heeled shoes audio sound? 4 coups to ease you learn a few
·How to choose shoes during pregnancy? Flat shoes are not safe
What should I do if my shoes become moldy
·Wearing these shoes in the summer will hurt you

Pillar Candles are suitable for Christmas, party, wedding, festival, church, home decoration, atmosphere building and etc.

Light a candle,happiness is never ending,light two candles,joyfulness is always shining.When all the candles are lit,tomorrow will be full of infinite hope.The auspicious light will surround you forever.




Specification

1. Material: High quality paraffin wax

2. Color: Multi-colored, white, red, yellow, blue, green etc

3. Burning time: Long time burning time

4. Scent: Scented or unscented according to customer`s request

5. Size:According to customer`s request

6. Delivery time:Usually 15-20days against the receipt of customer`s deposit

(exact time according to customer`s quantity)

Using Instruction

1.Candles must be able to sit in a horizontal position of the lamp/burner fashion and stable at a horizontal position .

2.If burning many candles together,need to leave some distance between candles.

3.Don`t put the candles in the wind

4.Avoid direct sunlight and away from flammable materials.

5.Keep awasy from children and pets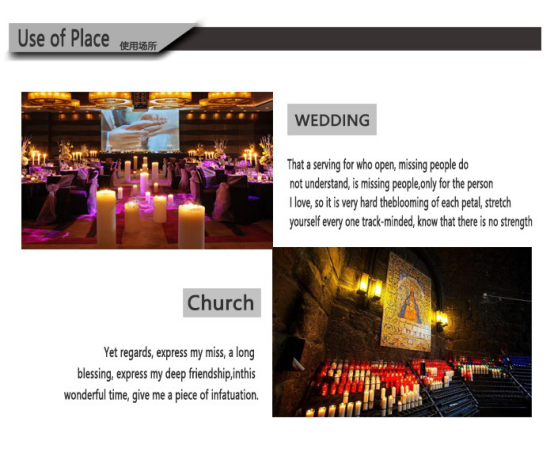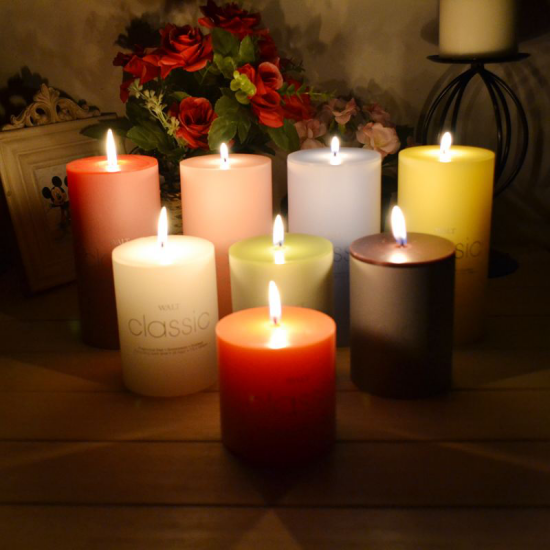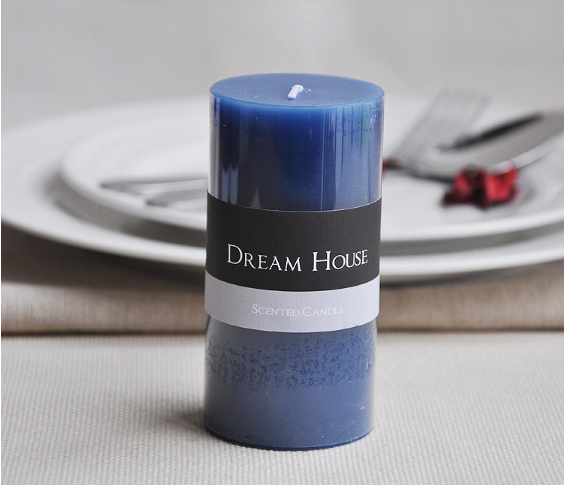 FAQ

Q: What is the price of candles?

A: Pls inform us the specification or the candle pictures, then a detailed quotation will be sent to you.

Q: Could I buy 1 pcs or 1 cartons as a sample or small order first?

A:We are honored to send you samples for quality check. especailly for the new customers.

For delivery time, 10-20days after comfirm the sample order

Q;Could I put out logo the candles?

A: Sure, if do your own logo, MOQ is 1000pcs.

Q: How could I know your quality of candles?

A: We have passed the CO, CCPIT, CIQ, CE, SONCAP, SGS certification. Every product will be fully assembled and carefully tested before it's packed for shipment.

Q: Could we have other payment terms, such as paypal, cash or others?

A: Yes, you can choose the payment term depands on the quantity.

Our Advantages

Quality Assurance

--From the very beginning, we ensure quality in every step to achieve the best quality.

Customized Solution

--According to your requirement, we bring you a flexible proposal and customized solution.

Global Service

--Wherever you are, our global network will support and provide you with value.

Quick Response

--In response to your needs without delay, we know the value of your time.
Custom scented candle

Item

Pillar Candles

Material

Paraffin Wax

Color

Pink, White, Yellow, Red, Blue, Or According To Customer`s Request.

Size

D 5CM, 7CM, 7.5CM,

H7.5,10,12.5/15,16CM Or According To Customer`s Request.

MOQ

1000 Pcs

Scents

apple cinnamon, apple jolly rancher, apple pie, banana nut bread, cherry, cinnamon spice,

cucumber & cantaloupe, cucumber melon, Or According To Customer`s Request.

Use

Home, Office, Hotel,Bar,Church And So On

Packing

24Pcs/Carton,36Pcs/Carton, 48Pcs/Carton Or According To Customers Request.

Delivery time

10-15days(according to customer`s order quantity)

Payment term

T/T, , Western Union
Pillar Candles
Pillar Candles,Pillar Candle For Decoration Pillar,Ball Pillar Candle For Party,Yellow Flameless Pillar Candle
Shijiazhuang Huaming Laye Limited Company , https://www.huamingcandle.com